Mercedes-Benz S-Class Facelift First Drive Review,  The Mercedes-Benz S-Class facelift sees a few changes in terms of looks but while they may appear to be minor, it's a major boost to the overall appearance of the car. But there's a lot more than meets the eye and the mid-life facelift brings in more in terms of technology, power and of course better driving dynamics. We drive it to find out more about this new car.
The Mercedes-Benz S-Class has achieved a benchmark status, in its class, as it has always been a car that has been ahead of its competition; may it be in terms of innovation, comfort or even engines, for that matter. However, you cannot completely deny the fact that it seems a little too coincidental that no sooner has Audi launched its brand new self-driving A8, than we see ourselves driving the S-Class facelift, which comes with a bit more tech and some design changes. As with most facelifts, one does not expect huge changes, in the car. Well, frankly, it isn't a new generation, now, is it? But, the S-Class facelift looks pretty much identical, to the outgoing model. Changes, to the exterior, are few and noticeable, when you go in for a closer look.
But, the highlights include a redesigned grille, with six and eight cylinder models, sporting three twin louvers and vertical strips, in a high-gloss, black finish. It also sees new front and rear bumpers, slightly different tail lamps and, the front headlight clusters now have three LED day-running light bars and multi-beam LED headlights, which now give the S-Class its identity. While we asked the Design Director, at Mercedes-Benz, if the LED daytime running bars would be a feature that we'll see, in most of the cars, he just said that it would be an impossible task, to equip each and every car with it and of course the company wants to give all the cars its unique identity. Having said that, there's an extra bit of glamour on the new S-Class, as the front grille is now more imposing, which, previously, was only the case on the V12 version; and it looks aggressive; but it's still unmistakably an S-Class.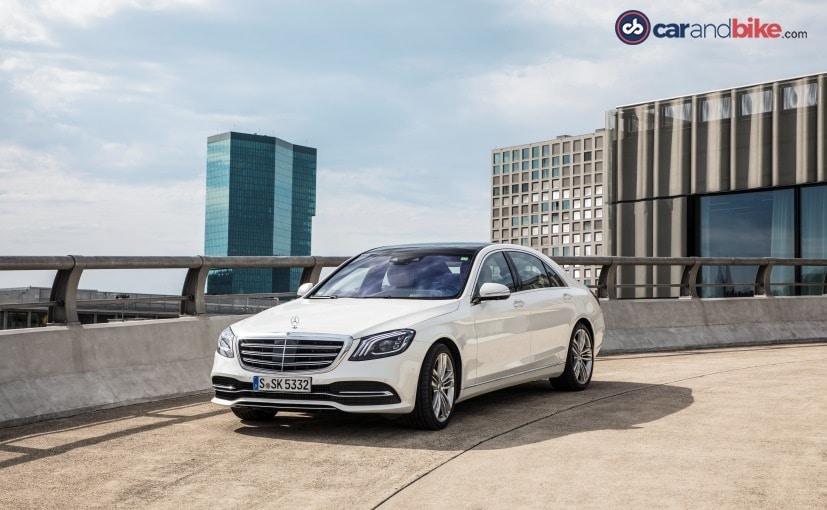 Mercedes-Benz S-Class Facelift gets a more imposing stance
Frankly, it's a car that has been around, since 2013, and this is just a mid-life cycle update and the changes continue inside too. Mercedes-Benz updated the interior, to include all the new tech, it introduced, with the recently unveiled E-Class, and so all eyes were on how the S-Class facelift would be speceed. Visually, it remains unchanged, save for the two new natural grain ash wood trim options, new brown tones, and three new upholstery colour combinations: Silk Beige/Deep-Sea Blue, Magma Grey/Espresso Brown and Mahogany/Silk Beige. But, the new equipment is what we had our eyes set on. Most of the features have made their debut on the new E-Class and we weren't surprised, when we saw the new touch-sensitive buttons, on the new steering wheel of the S-Class.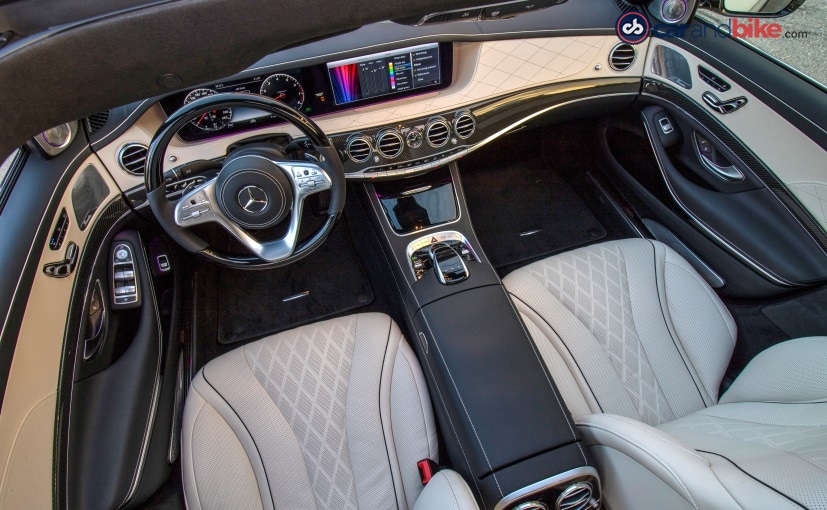 Mercedes-Benz S-Class Facelift Interior
The feature was launched with the E-Class, as a world-first, in the automotive industry and it helps detect horizontal and vertical swipes, similar to something that we see on a smartphone. The innovation allows the driver to control all the features of the infotainment system, by using fingers, thus doing away with any distraction whatsoever.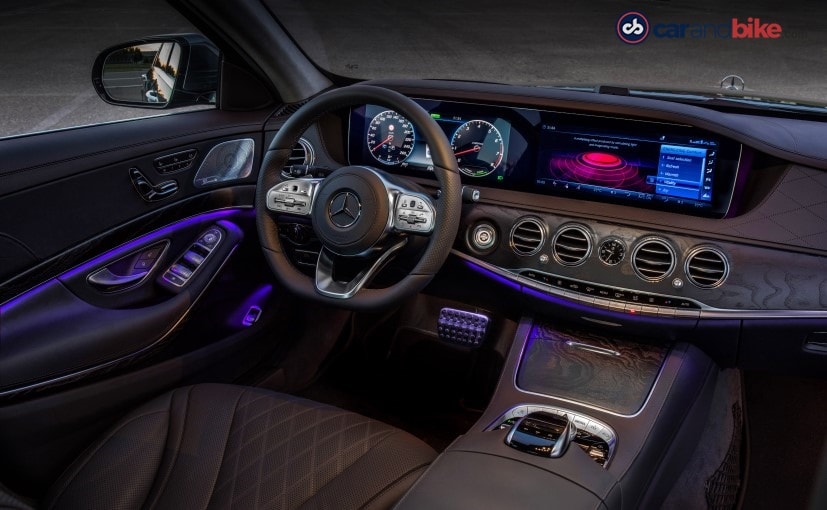 Mercedes-Benz S-Class Facelift Cabin
The infotainment system too had made its debut, in the E-Class, and now it makes its way to the S-Class. Alongside the 12.3-inch screen, of the infotainment system, the full-size now includes an equally large display, as an instrument cluster. Sadly, it's not a touchscreen and when asked why this was so, we were told that it was to reduce driver distraction and well, it made sense not having it. But, you expect a person buying an S-Class, to not spend much time in the front hemisphere of the car, which is why I got into the back seat, to understand if anything has changed. It's a big car and there's enough space for a big guy, like me. You have everything, at your disposal – there's a phone charger, a cooled glove box, seats that can fully recline and give you the same, if not more, comfort, than the seat, in the first class of an airline; and, of course, you get an infotainment system too, all to yourself. What more do you want? Sadly, though, the infotainment screen, at the rear, is not a touchscreen; however, it does get a remote, to operate it with. Overall then, the ambience inside remains unchanged, but it doesn't feel outdated at all.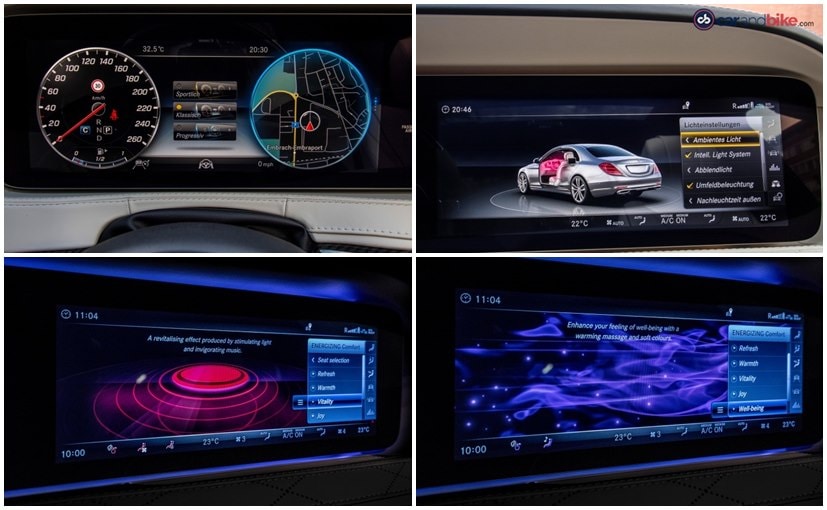 Mercedes-Benz S-Class Facelift Infotainment System
The biggest change however, has been with the engines; and well, Mercedes-Benz has ensured that it's now even better to drive. The S-Class is now a Level 2 (out of 5) autonomous car; and this, simply put, means that the car is capable of taking over steering and pedal controls, from the driver, all at the touch of a button and of course thanks to the radars, it has on board. Once the Adaptive Cruise control is engaged, you don't have to worry about steering or pedal inputs and it's a bit scary, at first; but then, you start enjoying the capability of the artificial intelligence that this car comes laden with. Yes, you do end up putting your hands on the steering wheel, every 10 seconds, trying to be one up, on the smart system; but, it doesn't really need interference. In fact, it senses a curve, shows down and then speeds up. Put it in the sports mode and it brakes a little later and makes sure there's good amount of power, when you exit the curve. Of course, it does not take a racing line and you can't expect it to; but one day it will! The S-Class even changes lanes, on its own, with the flick of the indicator; and it's accurate too, which is again scary and you start wondering what you're doing in the driver's seat. Of course, in the Indian context, none of this technology can be applied, till we have infrastructure, made ready for it.
Tags:- Mercedes Benz S-Class Facelift 2017 Review